PLANT-BASED MEAT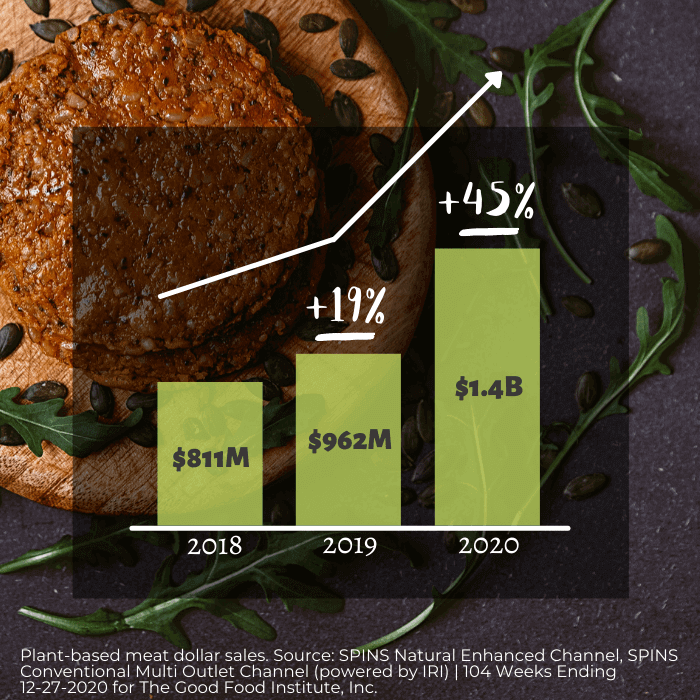 The plant-based meat market is steadily growing and has increased more than 430 million dollars in sales in the past year. It is currently worth 1.4 billion and has grown 72 percent within two years. The top products driving growth include plant-based burgers, sausage links, and patties followed by nuggets, tenders, and cutlets. Meat analog products made up most of the plant-based meat category compared to non-analog products such as black bean burgers or veggie burgers. Whether a person chooses to consume plant-based food to improve their health, reduce their environmental impact, or for ethical reasons, meat analogs allow consumers to partake in an almost identical experience as eating meat.
Similar to plant-based milk, by refrigerating plant-based meat and casing it alongside traditional meat products instead of separating it into specialty areas, sales have exponentially increased. The marketing and merchandising strategies implemented in this category have helped increase both the product's visibility and accessibility. In many ways, plant-based meat is mirroring the growth of plant-based milk in prior years. If it follows similar trajectories, the market for plant-based meat can grow to 14 billion dollars.
When looking at customer profiles, we see that 18 percent of households in the U.S. purchased plant-based meat, and of that 18 percent, 63 percent were repeat-buyers. The frequency in which families are either incorporating plant-based meat into their diets or switching to plant-based meat completely demonstrates the market's potential for growth.
"Producing a plant-based ground meat product that replicates the sensorial characteristics of real meat can be challenging. But, the taste and texture of the plant-based meats are key to the continued growth of this category. In our experience, the combination of pea protein and pea fiber with textured pea and faba bean proteins allowed our customers to formulate plant-based meat analogs with similar eating characteristics to traditional ground meat. The new addition of textured faba bean proteins to the formulations not only tasted neutral but also improved the overall eating characteristics. The resulting plant-based burgers were juicy, chewy, flavorful, and satisfying," O'Neill explains.
"Beyond protein fortification and building texture in plant-based meat analogs, we also help our customers preserve the quality, and extend the shelf life of their products and keep that fresh flavor profile using natural flavors and plant-based antioxidants," Joe highlights.