IFT FIRST 2023 Recap: Top Trends and Ingredient Innovations
October 2023 | Yana Viardo, Director Marketing and PR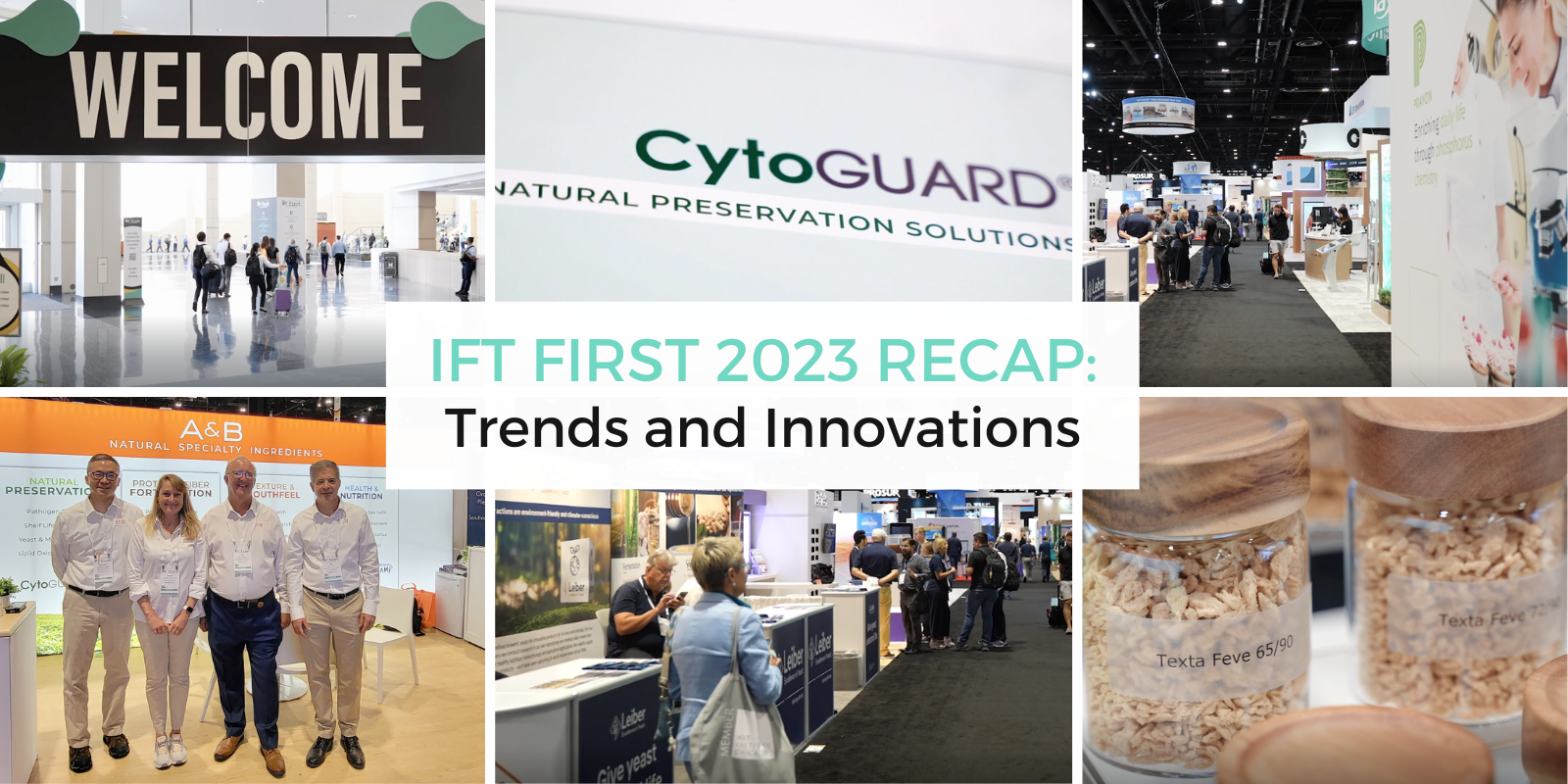 As seasoned participants and exhibitors at the premier food innovation event hosted by the Institute of Food Technologists (IFT), we are excited to reflect on this year's results and share our insights.
This year's IFT FIRST event, which stands for Food Improved by Research, Science, and Technology, showcased numerous notable product innovations and cutting-edge ingredient solutions designed to meet the evolving consumer demand.
HEALTH, WELLNESS, AND CLEAN LABEL ARE SHAPING CONSUMER CHOICES
One overarching theme that resonated profoundly with our customers and event attendees was holistic health and nutrition. Discussions popular in the health and nutrition sphere involved sodium and sugar reduction, advancements in gut and immune health, and the growing interest in natural preservation methods. Discussions around these critical subjects were enlightening and filled with insights.
A&B Ingredients provides ingredient solutions that are carefully chosen to match the consumer trend toward natural and health-conscious products.
Within our ingredient portfolio, we offer a range of functional solutions, spanning from natural preservation to protein and fiber fortification, texture enhancement, and health and wellness. These pillars are the cornerstone of our solutions, empowering our customers to create the next generation of food products that resonate with the evolving demands of today's consumers.
NATURAL PRESERVATION TAKES CENTER STAGE
One of the most engaging topics that resonated with all our customers and attendees at the IFT 2023 was natural preservation. We were pleasantly surprised by the substantial rise in demand for clean-label solutions, thereby extending the product's lifespan on the shelf.
Consumers are increasingly concerned about food waste, and a significant contributor to this issue is the short shelf life and deterioration of sensory qualities in various products, ranging from baked goods and refrigerated items to meats and poultry. In fact, 72% of consumers are more conscious about food waste today compared to the pre-pandemic era. According to the IFIC survey, 42% of consumers agreed that adding a preservative to food would be positive if it extend shelf life, and 40% of consumers sought out foods made with natural preservatives.
While the "clean label" and "free from" trends remain paramount among health-conscious consumers, there is a growing emphasis on food safety and reducing food waste. Factors such as color, taste, aroma, and expiration dates significantly influence consumers' buying decisions. Recent surveys showed that consumers were willing to support manufacturers that can provide products with extended shelf life.
At A&B Ingredients, we have carefully evaluated a broad range of plant-derived, natural extracts as an alternative to synthetic preservatives designed to control food spoilage and prevent food loss. We have developed a portfolio of natural solutions that can provide clean-label alternatives for microbial, yeast, mold, and oxidation control. Replacing synthetic preservatives with natural, plant-based solutions is one of our key areas of expertise.
"Our customers are excited about new innovative technologies to solve the old problem of replacing synthetic preservatives with new natural ingredients. They are looking at A&B as an innovation partner, and we are happy to pioneer in this area,"- said Joe O'Neill, VP of Sales and Business Development.
Our CytoGUARD® portfolio of natural preservation ingredients was expertly formulated to address food safety and sustainability challenges with consumer-friendly solutions. CytoGUARD® plant-based extracts align with the industry's growing emphasis on natural ingredients and environmentally conscious practices. Additionally, it champions clean-label solutions to reduce food waste, harnessing the potential of plant-based ingredients to replace synthetic additives.
"Our plant-based solutions help ensure the safety and quality of food and beverage products while reducing food waste, a crucial step towards a more sustainable future. By harnessing the power of natural ingredients, we can deliver solutions that can meet the growing demand for clean-label foods. This creates a win-win scenario for manufacturers, consumers, and the environment," O'Neill explained.
Learn more about CytoGUARD® natural preservation solutions.
SODIUM REDUCTION IN HIGH DEMAND: MEETING THE NEEDS OF HEALTH-CONSCIOUS CONSUMERS
We were thrilled to see a remarkable level of interest in sodium reduction among our customers and the attendees this year. Consumers want less salt in their food, which pressures manufacturers to make healthier options with less sodium.
American consumers are becoming increasingly aware of the risk of high sodium consumption. Processed foods, pre-packaged meals, ready-to-eat meats, bakery, and other foods are common sources of sodium in our diets. High sodium levels in ready-to-eat foods contribute significantly to elevated risks of heart disease, hypertension, and various other health concerns.
However, some consumers are concerned about the taste of reduced-sodium foods. In fact, one in two Americans believed low-sodium foods were bland and tasteless. Manufacturers are looking for solutions to ensure their products are healthy and taste good, so functional and flavor factors are important.
A&B Ingredients offers formulators a turnkey, clean-label solution for sodium reduction in food and beverage applications. Two Seas Sea Salts® are natural sea salt blends with up to 57 percent less sodium and are simply labeled as "sea salt". With Two Seas Sea Salts®, formulators can replace salt in soups, snacks, cured meats, and similar products. What sets these unique natural salts apart is their ability to deliver that familiar, clean, salty taste without introducing any of the bitter aftertastes associated with common salt alternatives.
Learn more about Two Seas Sea Salts natural sodium reduction solutions.
SUGAR REDUCTION IS A GROWING TREND
In the past few years, lowering sugar consumption has become a significant concern for individuals, healthcare organizations, and governmental entities. A staggering 75% of consumers actively sought ways to limit or avoid sugar entirely, according to the International Food Information Council (IFIC).
"With a growing concern about excessive sugar consumption, consumers seek prebiotic-enriched products that contain less sugar without sacrificing taste. Prebiotic fibers can serve as a sugar substitute while providing health benefits," explained O'Neill.
Chicory root fiber is a well-known prebiotic that offers both nutritional and functional benefits in foods. Prebiotic fiber is a type of dietary fiber that serves as food for beneficial probiotic bacteria living in the gut. Food manufacturers can use chicory fiber to reduce sugar content, enrich products with fiber, and lower calorie counts—all without compromising the taste, texture, or shelf life of their products. For numerous consumers, dietary fiber represents a "healthier" pathway to reducing sugar content in their favorite food and beverage items.
At the IFT FIRST event, we showcased a reduced sugar and fat beverage prototype crafted with pea protein and chicory root fiber. Chicory root fiber, known as inulin, can help reduce sugar and caloric content while simultaneously increasing the fiber content of products. This versatile ingredient contributes sweetness while preserving the creamy mouthfeel and texture consumers expect.
Beyond its role as a sweetener, chicory fiber also boasts a prebiotic benefit that supports digestive health and enhances immunity and the overall nutritional profile of food products. The link between gut health and immune function drives interest in prebiotic-enriched products that can help boost immunity, especially during times of increased health consciousness.
Nearly one in three (32%) of consumers said they sought digestive health benefits from food and beverages, according to the 2023 IFIC Food Health Report. Prebiotic enrichment aligns with this trend, supporting overall health through a well-balanced gut microbiome.
"Consumers are increasingly aware of the importance of gut health for overall well-being. They seek products enriched with prebiotics to support a balanced gut microbiome, which is linked to better digestion, immune function, and even mood regulation," said O'Neill.
Prebiotic-enriched foods and snacks, such as bars, chips, and yogurt, are gaining popularity as convenient food options for busy lifestyles. Consumers seek fiber-enriched foods and beverages that offer both satiety and digestive benefits.
Learn more about the chicory root fiber and prebiotic benefits here.