Action Mechanism
The antimicrobial properties of LAE are derived from its action on the cytoplasmic membranes of microorganisms. LAE causes a disruption/instability of plasma membrane lipid bilayer, altering the metabolic process and detaining the cellular cycle. No cellular lysis has been observed in any case in bacteria cells exposed to usual doses of LAE.
The effect of LAE on gram-negative microorganisms (Salmonella typhimurium ATCC 14028) and gram-positive (Staphylococcus aureus ATCC 6538) was studied at inhibition concentrations of 32 y 8 ēg/mL respectively, by the pharmacy faculty at the University of Barcelona and recently published in the Journal of Applied Microbiology.
By means of electronic transmitting microscopy the alterations caused by LAE on the bacteria cytoplasmic membrane were studied and can be seen clearly in figures 1, 2 and 3.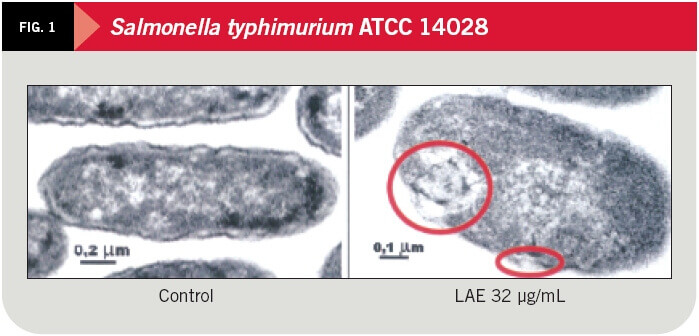 The action level on bacterial populations was analyzed by means of fluorescence microscopy and flux citometry, based on nucleic acid staining with two fluorescent pigments: first SYTO-13 (green), marking all cells, and then propidium iodide (red) which replaces the previous one only in damaged cells. LAE was able to act on 91 percent of the cell population of S. typhimurium and 45 percent of S. aureus population after 30 minutes of contact and 96 percent and 55 percent, respectively, after three hours of contact.
Finally, potassium and proton trans-membrane ionic flux was determined after 30 minute contact showing a potassium flux increment for S. aureus and S. typhimurium, as well as a decrease in the proton flux.
Both experiments indicate a clear alteration of the membrane potential as a direct consequence of the structural modification induced by LAE on the bacterial membrane.